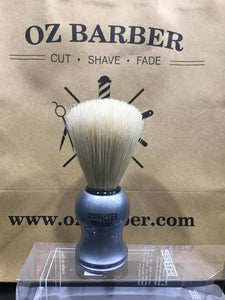 title="ZENITH PURE BRISTLE SILVER PALSTIC HANDLE SHAVING BRUSH 2004/A - Ozbarber">
Zenith shaving brushes are hand crafted in Italy from pure badger bristle and make an ideal companion with your shaving creams and balms. 
Apply hot water to the face and use your Zenith Shaving Brush to whip up a lather using proraso shaving cream or Omega shaving cream.  The result is a smooth and satisfying shave and a feeling of freshness that will last the entire day.  The Zenith Shaving brush should take pride of place in any barber shop due to its long standing existence within the industry.
Shaving brush in pure bleached bristle mm 57. Silver plastic handle. Black ring Ø 21mm.
Free Australia wide delivery on order over $30
The Zenith Pure bristle Silver Plastic handle Shaving Brush is a sensational customer favorite, and we hope you like it just as much.

Inventory Last Updated: Oct 03, 2023