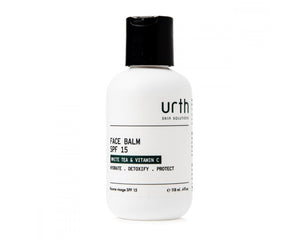 title="Urth Face Balm SPF 15">
This nutrient rich moisturizer hydrates & nourishes with natural herbal extracts, essential oils & vitamins C-E-A. Improves skin tone / radiance & provide antioxidant and UV protection.
Multi-benefit moisturizer. Use daily after cleansing or shaving to hydrate, detoxify, and protect.
Ingredients: Safflower Seed Oil, Colloidal Oatmeal, Vitamin C, Phenyl butyl Nitrone (Spin Trap), White Tea Extract, Vitamin A, Vitamin E, Chamomile Extract, Beta Carotene, Lavender Oil, Rosemary Oil, Eucalyptus Oil, Ginseng Extract, Aloe Vera Gel.
Free Australia wide delivery on order over $30
The Urth Face Balm SPF 15 destined to impress, and priced at only
$70.00
, for a limited time.
Inventory Last Updated: Dec 06, 2023