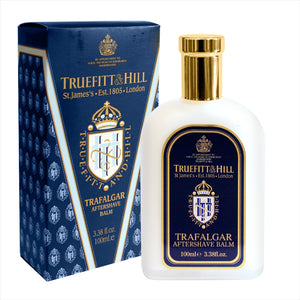 title="TRUEFITT & HILL TRAFALGAR AFTERSHAVE BALM 100ML - Ozbarber">
Truefitt & Hill Trafalgar Aftershave Balm is a rich soothing moisturiser, containing lanolin and aloe vera extract, that calms even the most sensitive skin after shaving. Exhibits the spicy, light and captivating fragrance of the Trafalgar Cologne and reveals its distinguished heritage with top notes of cedar and sandalwood, complemented by subtle hints of jasmine and spice. Made in England.
HOW TO USE
Apply a small amount of balm to shaved areas. Massage until completely absorbed.
Free Australia wide delivery on order over $30
The Truefitt & Hill Trafalgar Aftershave Balm 100ml is the product you didn't think you need, but once you have it, something you won't want to live without.

Inventory Last Updated: Dec 06, 2023