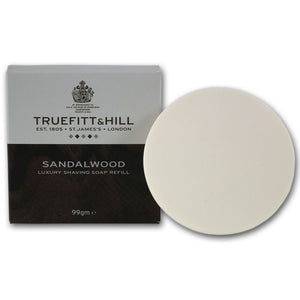 title="TRUEFITT & HILL SANDALWOOD LUXURY SHAVING SOAP REFILL 99G - Ozbarber">
Refill puck of shaving soap

Scented with Sandalwood

Environmentally-friendly and economical option
Description
Truefitt & Hill Sandalwood Luxury Shaving Soap revives the classy grooming style of our grandfathers to suit the needs of the modern gentleman. This shaving soap is a great alternative to creams and gels because it is long-lasting and easier to use. Simply lather it up with a wet brush, just like they did in barbershops from the 50s. If you enjoy doing things the old-fashioned way, this is a great choice for you. 
It's enhanced with a blend of ingredients that nourishes skin and gives you a clean shave. It produces a thick and rich lather that allows your razor to glide smoothly across your skin every time. Compared to aerosol creams, it offers more hydration so hair is easier to cut. 
Plus, it has a pleasant sandalwood scent that screams suave and masculine. Get the whole line of sandalwood scented products from Truefitt & Hill and complete your morning routine. 
The grooming product is a refill. It costs less and doesn't require additional resources for the wooden bowl container. Just reuse the original bowl that came with your first purchase of Truefitt & Hill Sandalwood Luxury Shaving Soap. You can save money and the environment at the same time. Restock your grooming supplies with this luxurious shaving essential.
Free Australia wide delivery on order over $30
Imagine if you could be satisfied and content with your purchase. That can very much be your reality with the Truefitt & Hill Sandalwood Luxury Shaving Soap Refill 99g.

Inventory Last Updated: Dec 08, 2023