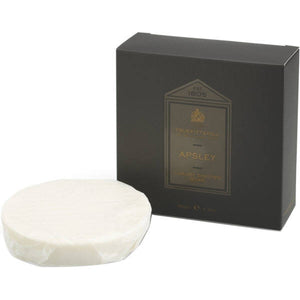 title="Truefitt & Hill Apsley Shaving Soap Refill 99g">
Truefitt & Hill's Apsley luxury shaving soap has been carefully formulated to naturally enhance and sooth the skin and uniquely blended with our signature Apsley scent. Apsley shaving soap combines with great aplomb both a heady fusion of smouldering autumn woods and light citrus notes – it has just the right balance to create a rich lather with a light finish.
First created more than 200 years ago, our range of luxury shaving soaps have been the bathroom essential for generations of judicious males – from statesmen to actors to Dukes and Kings.
Fits perfectly in the Apsley Shave Soap in Wooden Bowl.
Product Size
100g
Free Australia wide delivery on order over $30
The Truefitt & Hill Apsley Shaving Soap Refill 99g was built with people like you in mind. Something to keep you happy. Every. Single. Day.

Inventory Last Updated: Dec 06, 2023