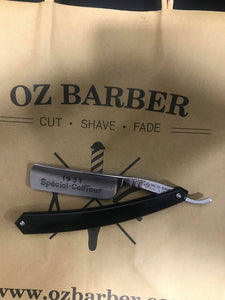 title="THIERS ISSARD STRAIGHT RAZOR "SPECIAL COIFFEUR" 6/8" BLACK PLASTIC HANDLE 275-6/8-SC-PN - Ozbarber">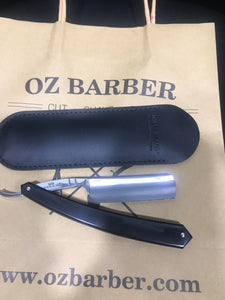 title="THIERS ISSARD STRAIGHT RAZOR "SPECIAL COIFFEUR" 6/8" BLACK PLASTIC HANDLE 275-6/8-SC-PN - Ozbarber">
A superior quality straight razor, the 275 Special Coiffeur is both a pleasure to look at and use. Great for beginners, it is lightweight, well-balanced, and easy to strop.
Spécial Coiffeur 
6/8" Blade
Handle in Black Plastic
Regular half-hollowed Razor
Forged from 100% Carbon Steel
Round nose, both sides satin polished
Anti-slip Knurling on lower side of the Tang
Mark in electro-chemical black on Blade + Thiers Issard Mark on Tang
Delivered in black Sheeps Leather Pouch.
Made in France
Thiers Issard is one of the world's most distinguished manufacturers of straight razors. A family company established in 1884 by Pierre Thiers, it is also a preeminent producer of fine cutlery. 
Free Australia wide delivery on order over $30
The Thiers Issard Special Coiffeur Black Plastic handle 6/8" Straight Razor was built with people like you in mind. Something to keep you happy. Every. Single. Day.

Inventory Last Updated: Oct 03, 2023