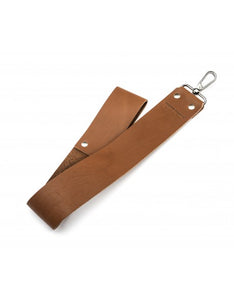 title="Thiers Issard Leather Razor Strop">
Leather strop 700mm x 50mm Thiers Issard. This wonderful leather strop from Thiers-Issard is the ideal accessory for gentlemen who want to take their daily care to a higher level or for professionals in the sector. Specially designed to soften or sharpen the edge of razors. It can also be used with knives and other tools. Made of high quality leather, to care for and protect your Thiers-Issard razors with the quality and delicacy they deserve. This is a 700mm x 50mm hanging strop, which has a metal ring at one end, to be able to hang it to a nail in a wall, for example, and also has a kind of hook with a leather fold, to allow to hold it firmly and achieve the desired tension.
Made in France
Free Australia wide delivery on order over $30
The Thiers Issard Leather Razor Strop destined to impress, and priced at only
$99.00
, for a limited time.
Inventory Last Updated: Sep 25, 2023