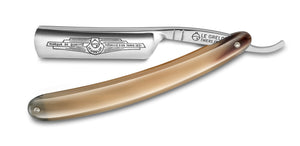 title="Thiers Issard Le Grelot Medaille Dor 275 Blond Horn 5/8" - Ozbarber">
Thiers Issard Le Grelot Medaille Dor 275 Blond Horn 5/8"
5/8" C135 Carbon Steel Blade


Singing Hollowed

Both sides satin polished

Blond horn handle
In Thiers France, there were two main blade manufacturers for over 100 years - 'Thiers Issard' and 'Hospital'. When Thiers Issard acquired Hospital in the 20th century,  their expertise was joined to produce this beautiful razor. The half-hollowed carbon steel blade is extremely sharp, suitable for enthusiasts and professionals alike. This blade has been handmade the same way at Thiers Issard since 1931.
'Singing' Hollowed, or extra-hollowed, razors represent the finest grind and thinnest blades made by Thiers Issard. This nickname comes from the sound the blade makes when a softer material is dragged gently across the cutting edge - like making your water glass sing!
'Le Grelot - Marque de Qualite, Medaille D'or - Paris 1931'
'The Bell - Mark of Quality, Gold Medal - Paris 1931'
Thiers Issard was founded in 1884 by Pierre Thiers, a skillful blacksmith known for exceptional handheld blades. The family business continued through Pierre's wife and sons well into the 20th century, and the handmade blades are still produced in central France today. Thiers Issard stands by their product, offering repair, resharpening, and renovation of their products. This, and all Thiers Issard blades, will certainly stand the test of time.
Free Australia wide delivery on order over $30
The Thiers Issard Le Grelot Medaille Dor 275 Blond Horn 5/8" is the yin, to your yang. You've found what you're looking for.

Inventory Last Updated: Sep 25, 2023