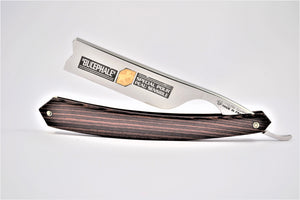 title="THIERS ISSARD KINGWOOD BUCEPHALE HOOK NOSE STRAIGHT RAZOR 7/8" - Ozbarber">
 Singing hollowed razors - luxury range
Forged from 100 % carbon steel C135
889 one side mirror polished - one side satin polished
Size 7/8 
 Hook nose 
Anti-slip jimps on the bottom and top of the tang
Mark in hand-done gold leaf on blade - Thiers-Issard™ mark on tang
Mark : BUCEPHALE™ 
Handles : kingwood
The whole of your razor are customized. 
In special luxury soft calf leather pouch with sliding closing tongue.
These singing completely hollowed razors are for all use and represent the finest grind and thinnest blades that we make !
Always thoroughly dry our razors after use and ensure that they are free from moisture (blade and handle) when storing them. Indeed, our blades are made from 100 % carbon steel which is the best quality steel but does rust if not kept dry.
For occasional use, the blade should be covered with vaseline.
All our razors are shave-ready.
All our razors are packed in a leather pouch and in a printed "THIERS-ISSARD" white cardboard box with instructions for use.
Free Australia wide delivery on order over $30

Imagine if you could be satisfied and content with your purchase. That can very much be your reality with the Thiers Issard Kingwood Bucephale Hook Nose Straight Razor 7/8".

Inventory Last Updated: Sep 25, 2023