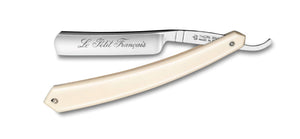 title="THIERS ISSARD 275 LE PETIT FRANCAIS WHITE PLASTIC STRAIGHT RAXOR 4/8" - Ozbarber">
Handmade in France, this Thiers-Issard 4/8" Straight Razor features an excellent quality singing hollow blade. The 4/8" is formed from 100% carbon steel with an anti-slip knurling on lower side of the tang. It is great for beginners and experienced wet shavers alike.
- ROUND NOSE
- ANTI-SLIP KNURLING ON LOWER SIDE OF THE TANG BLACK MARK IN ELECTRO-CHEMICAL ON BLADE Le Petit Français TM
- THIERS-ISSARD TM MARK ON TANG
- IN BLACK SHEEP LEATHER POUCH 
TIP: When not in use for longer periods, it is recommended that the razor be rubbed with light oil and stored in a dry, safe place. To maintain your razor and keep it in top condition, you'll also need a razor strop and strop balm.
Warranty - Product is covered by a lifetime warranty against defects in workmanship and materials. Warranty claims are void with improper treatment or user modification. It does not cover everyday wear and tear, abusive treatment or rough handling. Rust is considered careless handling and is not covered by the warranty.
Free Australia wide delivery on order over $30
The Thiers Issard 275 le Petit Francais White Plastic Handle Straight Razor 4/8" is evocative, to say the least, but that's why you're drawn to it in the first place.

Inventory Last Updated: Dec 09, 2023