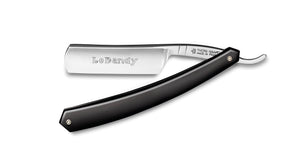 title="THIERS ISSARD 275 LE DANDY BLACK PLASTIC STRAIGHT RAZOR 6/8 - Ozbarber">
A superior quality straight razor, the 275 Le Dandy is both a pleasure to look at and use. Great for beginners, it is lightweight, well-balanced, and easy to strop.

Blade Type: Fully hollow-ground C135 carbon steel; round nose, razor name in black, and a satin finish.
Blade Size: 6/8"
Scale: Sturdy plastic with a black, faux ebony look.
Features: Jimps for a secure grip. Attractive ``Thiers Issard`` etching.

Packaged in a leather pouch. Handmade in France. Comes pre-honed, so it`s shave-ready.
Free Australia wide delivery on order over $30
The Thiers Issard 275 Le Dandy Black Plastic Handle Straight Razor 6/8 destined to impress, and priced at only
$230.00
, for a limited time.
Inventory Last Updated: Sep 25, 2023