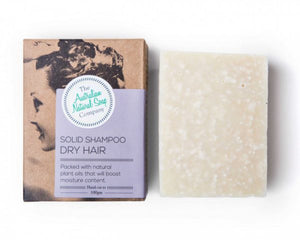 title="The Australian Natural Soap Company Solid Shampoo Bar Dry Hair">
Using our Solid Shampoo Bar for Dry Hair is the first step down the road to a waste-free, plastic-free lifestyle. It couldn't be easier! 
Dealing with dry, damaged, or breaking hair is frustrating. If this is something you struggle with, try our Solid Shampoo Bar for Dry Hair. It has no parabens, sulphates, plastic, or other harmful ingredients that might damage your hair OR the environment. In addition, using our products means never worrying about how much waste you produce.
100g
Free Australia wide delivery on order over $30
Imagine if you could be satisfied and content with your purchase. That can very much be your reality with the The Australian Natural Soap Company Solid Shampoo Bar Dry Hair.

Inventory Last Updated: Oct 03, 2023