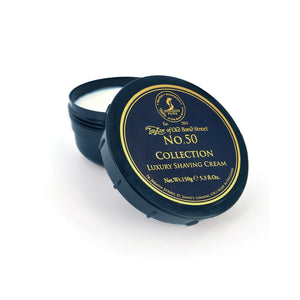 title="Taylor Of Old Bond Street Shaving Cream Bowl, No. 50 Collection 150g">
Taylor of Old Bond Street Shaving Cream Bowl, No. 50 Collection 150g - NEW

This selection of Taylor of Old Bond Street Luxury Shaving Cream creates a uniquely smooth and creamy lather while protecting and moisturising the skin to give a better shave. The Taylor of Old Bond Street cream is placed on either the shaving brush or directly on the palm of the hand and then applied to the face, where the shaving brush is used to work up a lather.
BRAND NEW - Luxurious Taylor of Old Bond Street No.50 Collection Shaving Cream is formulated with a blend of moisturisers to create the uniquely smooth and creamy 'Taylor' Lather.
Fragrance: A classic fragrance with top notes of bergamot, mandarin, cypress, middle notes of orange flower, lavender, oceanic and base notes of vetiver and woody amber.
Size: 150g/5.3 oz. Bowl
Made in the United Kingdom
Every product is unique, just like you. If you're looking for a product that fits the mold of your life, the Taylor Of Old Bond Street Shaving Cream Bowl, No. 50 Collection 150g is for you.

Inventory Last Updated: Dec 06, 2023