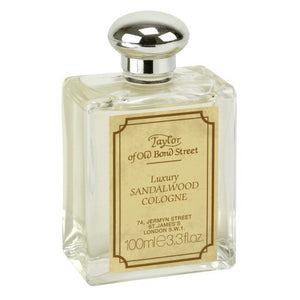 title="TAYLOR OF OLD BOND STREET SANDALWOOD COLOGNE SPLASH 100ML - Ozbarber">
Classic sandalwood scented cologne from Taylor of Old Bond Street

Understated and elegant

Hints of citrus, florals, and musks round out the aroma
When you've been around long enough to be from "old" Bond street then you know you have staying power. And that is definitely true of Taylor of Old Bond Street. Since 1854 when Jeremiah Taylor first began mixing botanicals for British "society", this brand has stood for quality, reliability, and understand elegance. Even if you aren't a titled English lord, you can still enjoy TOBS service and products. For a truly traditional scent, try Taylor of Old Bond Street Sandalwood Cologne.
Whenever possible natural ingredients are used to bring you this tasteful, classic fragrance in the tradition of fashionable Bond Street. A longtime favorite in perfumes and colognes, sandalwood is rich in history and character. Make it your signature scent.
This cologne opens with top notes of citrus, a lemon burst with herbal hints of lavender, thyme, and rosemary. A heart of jasmine and white cyclamen is kept from being too green and floral by subtle spice accord. Then the base of precious woods, moss, and musk comes through. An anytime scent for any occasion.
Size: 100 ml bottle
Made in England
Note: we cannot send fragrances/aftershaves internationally
Free Australia wide delivery on order over $30
On the fence about this Taylor of Old Bond Street Sandalwood Cologne Splash 100ml? Don't be. Let our satisfaction guarantee address your concerns.

Inventory Last Updated: Dec 09, 2023