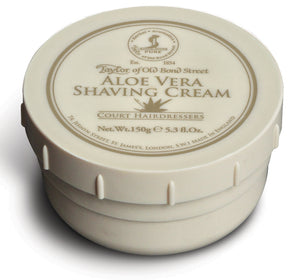 title="Taylor of Old Bond Street Aloe Vera Shaving Cream Bowl 150g">
Aloe Vera Shaving Cream offers a light, natural and fresh fragrance. It contains ingredients which soothe, soften, moisturise and reduce redness of the skin which may occur during shaving.
Formulated with a blend of moisturisers to create the uniquely smooth and creamy lather.
Free Australia wide delivery on order over $30
On the fence about this Taylor of Old Bond Street Aloe Vera Shaving Cream Bowl 150g? Don't be. Let our satisfaction guarantee address your concerns.

Inventory Last Updated: Dec 09, 2023