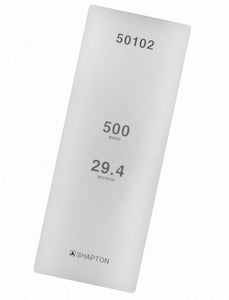 title="Shapton Glass Stones 500 Grit">
Shapton glass stones are known for their exceptional quality, durability, and ease of use. The abrasives are extremely uniform, meaning the abrasive encountered with the first pass of a blade will be the same as the 5000th pass.
Each stone is composed of a 5mm tempered glass backing plate fused to a 5mm thick stone. Shapton sharpening stones are made with finely graded ceramic cutting media that requires less flattening and lasts 4-5 times longer than most water stones.
The Shapton Glass Stone HR 500 Grit keeps blades in shape, designed to fix small chips and nicks in blades.

500 grit
29.4 micron particle size
Intended for setting a bevel or fixing a small chip in the blade of a straight razor
Not required as part of routine sharpening
Soaking not required
Made in Japan
Free Australia wide delivery on order over $30
The Shapton Glass Stones 500 Grit is a sensational customer favorite, and we hope you like it just as much.

Inventory Last Updated: Dec 06, 2023