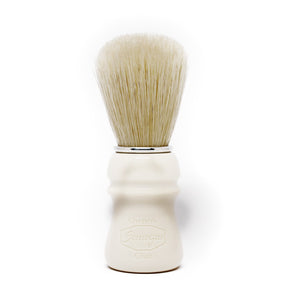 title="Semogue Owners Club Taj Selected Premium Boar Shaving Brush">
The Semogue Owners Club Premium Boar Bristle Shaving Brush is a simple and dynamic shaving accessory. Softer than a traditional boar brush, its Premium Boar bristles are suited for those who prefer bristles with a bit of rigidity and roughness. Creating an excellent lather, the premium boar bristles work to gently exfoliate skin. A metal ring surrounds the rim of its taj resin handle, ensuring that the bristles remain neat and organized. The Premium Boar Bristle Shaving Brush with resin handle is admired by both new and experienced wet shavers.

Hair Grade: Special Grade 90% Tops
Handle Material: Taj Resin
Knot: 24mm
Loft: 55mm
Handle Height: 57mm
Handle Bottom Diameter: 39mm
Handle Diameter in Narrowest Part: 30mm
Total Height: 115mm
Weight: 81g.
Recommended Stands: Semogue 0020, Semogue 0040
Free Australia wide delivery on order over $30
On the fence about this Semogue Owners Club Taj Selected Premium Boar Shaving Brush? Don't be. Let our satisfaction guarantee address your concerns.

Inventory Last Updated: Dec 06, 2023