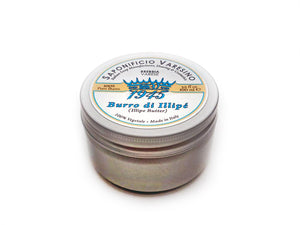 title="Saponificio Varesino Pure Illipe Butter 100g">
Great pre shave, if used before bedtime and left to act for the whole night.
100 g of pure illipe butter, which corresponds to approximately 125ml of melted butter.
100% natural product, the butter of illipe can be used directly on dry skin, inflamed, scaly and abraded.
The properties of Illipe Butter:
prevents and combats skin dryness,
maintains the optimal state of the skin natural moisture,
redeems the skin elasticity.
Apply a small amount to the affected area and massage gently.
The product requires some time to be fully absorbed.
Free Australia wide delivery on order over $30
Life is too short to live without the Saponificio Varesino Pure Illipe Butter 100g. Be happy. Be Content. Be Satisfied.

Inventory Last Updated: Dec 10, 2023