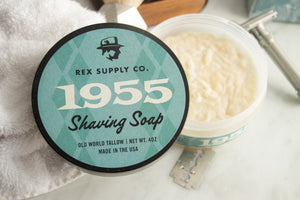 title="Rex Supply 1955 Old World Tallow Shaving Soap">
Rex Supply Co. Old World Tallow Shaving Soap is a love letter to the traditional soaps men have used for centuries. Before becoming preoccupied with man buns and vegan ingredients, soap made from animal fat provided clean comfortable hydration to men. The same men whose daily sacrifice built unprecedented economic growth in the 50's and lead to a Golden Age of American Manufacturing we still celebrate today.
 Honest, hard-working men that were too busy providing for their country and families to debate about the characteristics of masculinity.. they just were.
1955, the first offering from Rex Supply co. is a subtle, confident scent. Inspired by the most popular colognes from the 1950's, with floral notes of Hyacinth & Gardenia woodsy notes of Vetiver & Sandalwood.
The complex 1955 aroma is unlike anything available today, nothing musky, no headache inducing smack, and nothing exotic about this classic American construction. This Tallow Soap offers the most clean, comfortable, hydrating lather on the market today. Old World Tallow provides a rich cushion and leaves you lightly fragranced with the best post-shave feel you've ever experienced.
 Scent Notes: Hyacinth, Gardenia, Vetiver, SandalwoodIngredients: Tallow, Stearic acid, water, coconut oil, potassium hydroxide, glycerin, shea butter, fragrance, sodium hydroxide
 4oz
Free Australia wide delivery on order over $30
The Rex Supply 1955 Old World Tallow Shaving Soap is far and away, one of our most popular items. People can't seem to get enough of it.

Inventory Last Updated: Dec 09, 2023