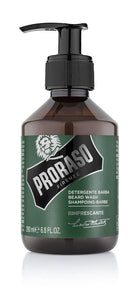 title="PRORASO BEARD WASH EUCALYPTUS AND ROSEMARY - Ozbarber">
This Proraso Beard Wash will help to cleanse your beard, moisturise the skin and leave it smelling of fresh eucalyptus!
A gentle but very effective beard shampoo designed to keep in great condition even the longest beard , fragrance of menthol and eucalyptus. A perfect choice for your daily beard care routine.
Size: 200ml
Free Australia wide delivery on order over $30
Life is too short to live without the Proraso Beard Wash Eucalyptus and Rosemary. Be happy. Be Content. Be Satisfied.

Inventory Last Updated: Oct 03, 2023