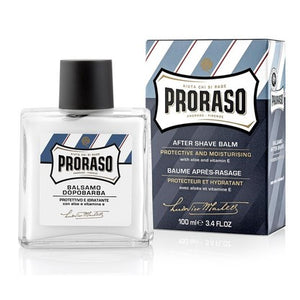 title="PRORASO AFTER SHAVE BALM: PROTECT, 100ML - Ozbarber">
Proraso After Shave Balm is an alcohol-free lotion that will soothe and protect even the most sensitive skin after shaving. With new packaging and a natural formula combining Aloe Vera and Vitamin E, Proraso Blue Aftershave Balm has a light, fresh fragrance and leaves the skin moisturised and free of irritation. Contains no parabens, silicons, mineral oils or artificial colours. Vegan. Made in Florence, Italy.
RECOMMENDED FOR
Post Shave Irritation, Razor Burn, Post Shave Moisturiser, Soothing, Dry Skin, Normal Skin, Oily Skin, Sensitive Skin, Combination Skin.
Note: we cannot send fragrances/aftershaves internationally
Free Australia wide delivery on order over $30
Imagine if you could be satisfied and content with your purchase. That can very much be your reality with the Proraso After shave Balm Protective 100ml.

Inventory Last Updated: Dec 08, 2023