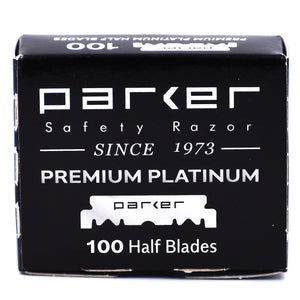 title="PARKER PREMIUM PLATINUM PRE-CUT HALF BLADES (100) - Ozbarber">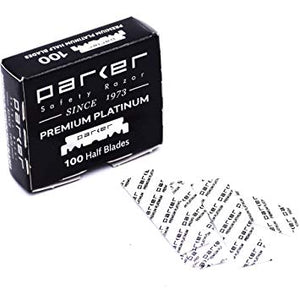 title="PARKER PREMIUM PLATINUM PRE-CUT HALF BLADES (100) - Ozbarber">
Parker's Premium Platinum half blades are excellent for use in all standard shavette razors, professional barber razors and disposable blade straight razors that use a half a double edge razor blade or professional precut shavette blade. These blades are coated with Platinum and Chromium to ensure smooth shaves and blade longevity.
Each package contains 100 individually wrapped Platinum/Chromium coated barbershop quality blades
Polymer coated for smooth shaves and enhanced blade durability
Perfect for use in the Parker shavettes (SR1, SRB, PTB, etc) or any other razor that requires "half a double edge blade"
Precut for precise alignment…no more snapping blades in half
Known for sharpness – Excellent for barbershops or home users
**Razor sold separately.
Free Australia wide delivery on order over $30
Imagine if you could be satisfied and content with your purchase. That can very much be your reality with the Parker Premium Platinum Half Blades (100).

Inventory Last Updated: Dec 06, 2023