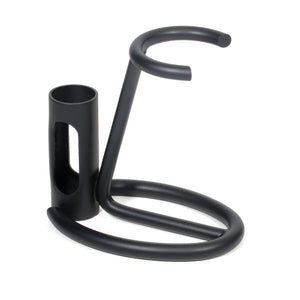 title="OMEGA SHAVING BRUSH AND RAZOR STAND – MATT BLACK PAINTED METAL - Ozbarber">
Omega is the leading expert on shaving brushes with an extensive heritage that combines vintage craftsmanship with contemporary mechanics. This gunmetal black stand is the ideal apparatus for storing your shaving brushes and razors. Robust by design, this stand is built at an angle that allows your brushes to dry quickly and keeps your razors accessible. Sleek all-around, wet shaving became more accessible and apparent.
Will comfortably hold razors up to 14mm diameter and shaving brushes with a knot size of up to 27mm. 
Made in Italy (Height 69 mm).
Free Australia wide delivery on order over $30
The Omega Shaving Brush & Razor Stand Matt Black 206-N destined to impress, and priced at only
$48.00
, for a limited time.
Inventory Last Updated: Dec 08, 2023