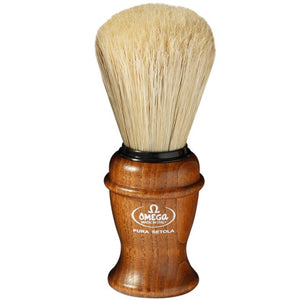 title="OMEGA PURE BRISTLE SHAVING BRUSH 11137 - Ozbarber">
Omega Pure bristle shaving brush with ash wood handle with a black ring at the top. 100% boar bristle and build up an excellent thick lather. Great value for money shaving brush.
Features:
Package: Single Shaving Brush
Knot: 2,6 cm
Handle: Wood
Size: 113 mm
Color: Brown
Bristle length: 5,5 cm
Note: When preparing the brush for shaving, only soak the bristle (the hair) in water, noth the handle. By keeping the handle out of the water prolongs the life of the shaving brush.
Free Australia wide delivery on order over $30
The Omega Pure Bristle Shaving Brush 11137 is far and away, one of our most popular items. People can't seem to get enough of it.

Inventory Last Updated: Dec 06, 2023