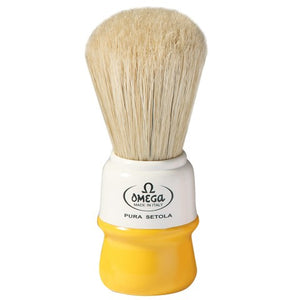 title="OMEGA PURE BRISTLE SHAVING BRUSH 10015 - Ozbarber">
Available in 2 colours: red, yellow. You can choose your colour or we will ship any colour available in stock.
Add some color to your daily shave with the Omega 10015 Boar Bristle Shaving Brush. Available with a bright red and white base, or white and yellow base, the vibrant handle is comfortable to hold and allows for a comfortable grip. Its boar bristles also gently exfoliate your skin as you lather your face with your favorite shaving soap.
Italy's leading brush makers for over 50 years, delivers fine grooming products. All Omega brushes are proudly made in Italy and are known around the world for their quality materials and durability.
Brush Dimensions
Knot diameter: 22 mm 
Bristle loft: 45 mm 
Handle height: 45 mm 
Overall height: 96 mm 
Made in Italy
Free Australia wide delivery on order over $30
On the fence about this Omega Pure Bristle Shaving Brush 10015 Yellow? Don't be. Let our satisfaction guarantee address your concerns.

Inventory Last Updated: Dec 08, 2023