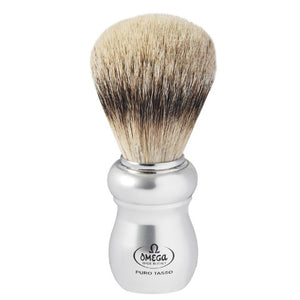 title="OMEGA "ERGAL" SILVERTIP BADGER SHAVING BRUSH – ANODIZED ALUMINIUM ALLOY - Ozbarber">
The Omega 6652 1st grade super badger shaving brush comes with a striking ERGAL anodized aluminium alloy handle. With a matching chromed plastic collar holding the high performance Omega 1st grade super badger loft, this is a striking brush. This brush comes in its own presentation gift box. Made in Italy.
How to use
The brush bristles should be wet (not soaking) before use. Load the loft with soap or cream and apply to the areas to be shaved, using a strong circular motion. This softens the hairs and also raises them ready for shaving.
We strongly recommend the following after care for your brush; When finished always rinse the brush under hot water (especially at the base of the bristles) to remove any remaining soap residue which can result in damage to the bristle and cause early shedding of the loft. The brush should then be stored loft facing down to dry. This can be achieved by using a shaving brush stand and prevents the bristles rotting at the base due to moisture.
Recommended for
Both shaving creams and shaving soaps and all skin types.
Grooming tip
Always store your shaving brush with the loft/bristles pointing down, to allow excess moisture to drain away naturally. This prevents damage caused by damp and helps to extend the life of your brush.
Dimensions 
| | | |
| --- | --- | --- |
| A. | Overall Height | 107mm |
| B. | Loft Height | 53mm |
| C. | Base Height | 54mm |
| D. | Loft Width | 52mm |
| E. | Knot Diameter | 20mm |
(All measurements are approximate)
Free Australia wide delivery on order over $30
Every product is unique, just like you. If you're looking for a product that fits the mold of your life, the Omega 6652 "ERGAL" Super Badger shaving brush – Anodized Aluminium Alloy is for you.

Inventory Last Updated: Dec 08, 2023