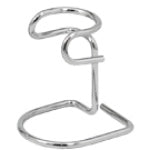 title="OMEGA CHROME SHAVING BRUSH STAND 274CR - Ozbarber">
The Omega 274CR Chrome Shaving Brush Stand will store and display your shaving brush in between uses and help it to dry. Will hold most shaving brushes with a knot size of up to 27mm. Polished chrome finish.
Made in Italy.
Height: 68mm.
Footprint: 49mm x 60mm.
Free Australia wide delivery on order over $30
The Omega Chrome Shaving Brush Stand 274CR destined to impress, and priced at only
$29.99
, for a limited time.
Inventory Last Updated: Oct 03, 2023