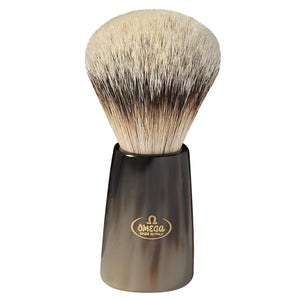 title="Omega 6226 Silvertip Badger shaving brush – Real ox horn">
The famous Omega brand has been a leading brush maker since 1946. They are located in the beautiful city of Bologna in the North of Italy. OMEGA produce a complete range of high professional quality shaving brushes.
Omegas great experience in manufacturing and their careful selection of raw materials result in consistently high quality products which are renowned across the world!
Product Omega's high quality 6226 shaving brushes provide 100% pure badger hair for a clean, close shave. Badger hair is lush and soft- a treat for your face.
Silvertip Badger: The Silvertip Badger knot is the finest and most expensive. Hairs are carefully selected by hand and their tip turns out to be very clear, almost silvery. The domed shape of the knot allows the brush to retain a large amount of water as to easily make a very good and rich lather. Silvertip Badger shaving brushes are well-known for their softness and they're considered, without any doubt, the top quality in traditional wet shaving.
Another superb example of Omega craftsmanship. Genuine horn handle polished to a beautiful perfection.
Every brush is unique, the variations in color and pattern of the horn are infinite. Very limited production.

Dimensions approximate:
Overall brush height: 113 mm
Knot diameter (At base): 24 mm
Packaged in an elegant Omega gift box.
Free Australia wide delivery on order over $30
Imagine if you could be satisfied and content with your purchase. That can very much be your reality with the Omega 6226 Silvertip Badger shaving brush – Real ox horn.

Inventory Last Updated: Dec 06, 2023