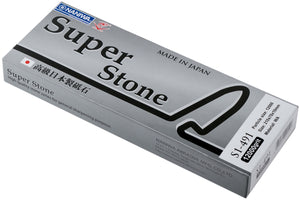 title="Naniwa Super Stone 12000 Grit, S1-491">
This Naniwa Super Stone S1-491 is a Japanese sharpening stone with grain size 12000. This top-quality whetstone is a part of the Super Stone collection: the successor and the predecessor of the Naniwa Specialty Stone Collection.
Synthetic resin-bound sharpening stones
The Super Stones are synthetic resin-bound. Naniwa takes care of the production of this binding agent themselves. Perfectly aligned to the grain size of the sharpening stone. It is one of the reasons why the Super Stones are so incredibly good. They are hard, do not wear out easily and have a high concentration of sharpening particles. As a result your knife won't quickly 'bite' into your stone and the sharpening process will go quickly. In addition, they are splash & go: simply add some water and you are good to go.
After sharpening it is important to properly dry off the Super Stones and allow them to completely dry at room temperature. Do not put them on the heater! Once dry store them in a dry, dark place to prevent small cracks.
About the grain size
Sharpening stones come in various grain sizes. The larger the number the finer the grain. The finer the grain, the sharper the results. You start the sharpening process with a coarse grain after which you continue with a finer grain. Steps of a factor two to three between the different grain sizes are perfect.
Free Australia wide delivery on order over $30
The Naniwa Super Stone 12000 Grit, S1-491 destined to impress, and priced at only
$169.00
, for a limited time.
Inventory Last Updated: Sep 25, 2023