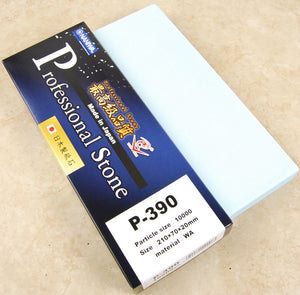 title="Naniwa Professional Stone P-390 10000 grit">
The 10000 is designed for katana sharpening, and a great straight razor stone. If you chase the sharpest edge, the 10000 grit is the choice. 
The Professional
The Naniwa Professional line is basically the overseas version of the Chosera line. The abrasive is basically the same as the famed Chosera line which is trusted by many professional chefs, woodworkers and sharpeners as the best splash and go sharpening stones. 
Compared to the Chosera (25mm thick), the Professional (20mm) is marginally thinner, and does not come with base, which is preferred by many as easier to store and carry around. It is also cheaper to ship thanks to the lack of base. 
Type: Splash & Go, do not soke for more than 15 minutes
Dimension: 210 x 70 x 20mm (8.2 x 2.7 x 0.7")
Weight: 800g (28.2oz)
Abrasive: white aluminium (WA) oxide   
Made in Japan.
Care

Like many products designed for the high-end user, the Naniwa Chosera stones require more care than your average stone. Unlike some waterstones, these are not to be left in water, leaving them in water will affect the bonding. When you are done, just let them air dry. Don't try to speed up the drying process by exposing them to heat, just let them air dry so they can dry evenly. Store the stones only after they are completely dry. If this extra care is too much for you, we suggest you choose a different type of stone.
Free Australia wide delivery on order over $30
Life is too short to live without the Naniwa Professional Stone P-390 10000 grit. Be happy. Be Content. Be Satisfied.

Inventory Last Updated: Dec 09, 2023