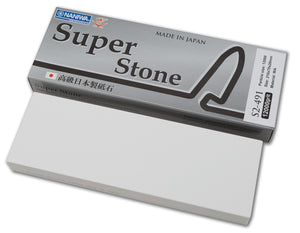 title="Naniwa 12000 Grit Super Stone S2-491">
- JIS grit: 12.000
- Extra fine stone for final polishing
- Japanese water stone
- Dimensions: 210 x 70 x 20 mm
- Abrasive: White aluminum oxide
- Made in NANIWA factory in Osaka, Japan
- Made in Japan

S2 Super Stone series
S2 Super Stone is a series of sharpening stones especially suited for final polishing. Stones offer high polishing effect and stay flat for long time, while offering comparable experience as with sharpening on soft natural stones. These stones are ideal even for sharpening of hard carbon steel. Soak the stone for at least 10 minutes prior to use. Do not store submerged. Aluminum oxide (corundum) is used as abrasive. Naniwa changed the name and packaging of the stones (formerly Super Stone series only for Japan, after that Sharpening series for Europe and now Super Stone worldwide), but stones themselves remained unchanged. S2 marking signifies 2cm thickness of the stone.

Free Australia wide delivery on order over $30
The Naniwa 12000 Grit Super Stone S2-491 is the product you didn't think you need, but once you have it, something you won't want to live without.

Inventory Last Updated: Oct 03, 2023