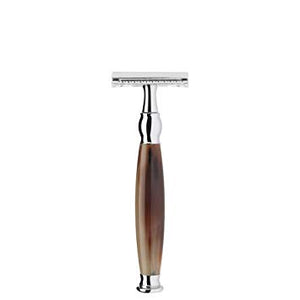 title="MUHLE SOPHIST R42SR SAFETY RAZOR GENUINE HORN - Ozbarber">
SOPHIST - Safety razor from MÜHLE, closed comb, handle material buffalo horn 
Safety razor – classic blade

Handles made of genuine horn with chrome-plated metal highlights
The Material - Genuine horn
Genuine horn has been used to make useful or decorative objects since ancient times. The natural material must be selected and processed with great care: Only solid horn tips are used for the handles of shaving brushes and razors. If the hand-picked tips are sufficiently thick, they are formed meticulously by a turner. Then they are very finely ground several times and finally polished to a high-gloss finish.

The gentle, yellow to ochre colouring makes the surface of the blonde horn appear very warm. The graining of the work pieces shimmers from white to brown and dark brown, lending each product its own individual character.

Without chrome the world would forfeit a lot of its lustre. In the finish used for our wet shaving accessories it demonstrates its best qualities: The material is corrosion-resistant, very long-lasting and has a luxurious, alluring lustre. When contrasted with this, the colours and shapes of other premium materials are shown to their very best advantage.
 
The Razorhead - Classic blade
For generations, the safety razor has been regarded as a stylish classic which can even shave edges with precision. For many, it is the razor par excellence. Its styling is ideally suited to the design of the MÜHLE products.

Even if the open blade does demand a little respect at first: After a brief familiarisation period, and guided by a steady hand, it produces a very close shave and a lasting result. Unlike modern blade systems, the head of the safety razor does not move. The blades are replaced by unscrewing the cap. They can be purchased from us and by retailers everywhere.
Measures
Dimension: 42 mm x 125 mm
Weight: 76 g

We recommend our rust-proof MÜHLE razor blades which are the perfect match for our safety razors.
Free Australia wide delivery on order over $30
The Muhle Sophist Safety Razor Genuine Horn is the yin, to your yang. You've found what you're looking for.

Inventory Last Updated: Dec 06, 2023