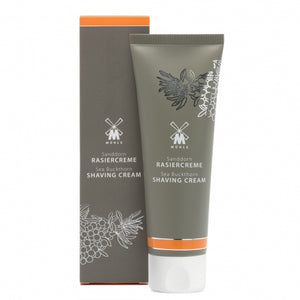 title="MUHLE SEA BUCKTHORN RC SD TUBE SHAVING CREAM TUBE 75ML - Ozbarber">
This Sea Buckthorn shaving cream from Muhle has a light consistency, yet creates a thick rich shaving lather.
Especially recommended for sensitive skin sufferers, this cream contains sea buckthorn extract, which is rich in palmitic acid that supports skin regeneration in a natural way.
It possesses a fresh and fruity fragrance packed notes of lime, orange and grapefruit.
It will whip up into a rich, thick, cushioning lather, ideal for wet shaving with.
75ml, comes in a plastic squeeze tube which is in a branded Muhle outer cardboard box.
Ideal for holiday and air travel.
This shaving cream is very slick meaning a little can go a very long way. For best results place an almond size amount into a shallow lathering up bowl and with your (slightly) wet shaving brush, whip the cream into a rich, creamy texture which you paint into your beard bristles.
Ingredients; Aqua (Water), Potassium Stearate, Potassium Palmitate, Potassium Cocoate, Glycerin, Sodium Stearate, Sodium Palmitate, Sodium Cocoate, Cera Alba (Beeswax), Potassium Myristate, Cetyl Palmitate, Hippophae Rhamnoides (Sea Buckthorn) Fruit Extract, Parfum (Fragrance), Potassium Laurate, Sodium Myristate, Sodium Silicate, Sodium Thiosulfate, Hexyl Cinnamal, Limonene, Linalool
Free Australia wide delivery on order over $30
The Muhle Sea Buckthorn Shaving Cream Tube 75ml is evocative, to say the least, but that's why you're drawn to it in the first place.

Inventory Last Updated: Dec 06, 2023