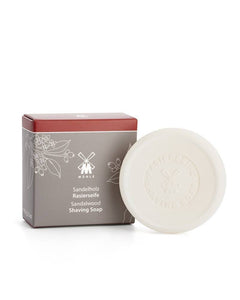 title="MUHLE SANDALWOOD SHAVING SOAP – 65G - Ozbarber">
Muhle's soaps are made from elaborate recipes that perfectly prepare the skin and beard for a particularly careful and mild shave.
Suitable for normal and dry skin. The valuable ingredients originate from selected essences of Oriental sandalwood. The precious, essential oil is used, which is achieved by a multi-stage distillation process. Sandalwood nourishes and pampers the skin and the senses. With fine fragrance notes of coriander and star anise.
Free Australia wide delivery on order over $30
The Muhle Sandalwood Shaving Soap 65g is far and away, one of our most popular items. People can't seem to get enough of it.

Inventory Last Updated: Sep 25, 2023