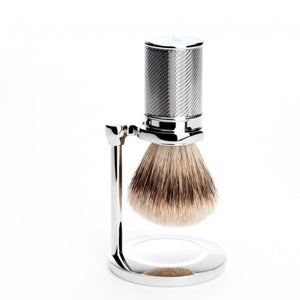 title="MUHLE RHM SR RP SHAVING BRUSH STAND – CHROME - Ozbarber">
This RHM SR RP shaving brush stand from Muhle is chrome plated and is the perfect companion for your shaving brush. This premium stand is solid, heavy and finished in polished chrome. Perfect for keeping your brush in good condition.
A chrome-plated, brass shaving brush stand to suit the Stylo and Classic range of shaving brushes from Muhle.
**Please Note – Stand only, brush not included**
Free Australia wide delivery on order over $30
The Muhle RHM SR RP Shaving Brush Stand Chrome is evocative, to say the least, but that's why you're drawn to it in the first place.

Inventory Last Updated: Dec 06, 2023