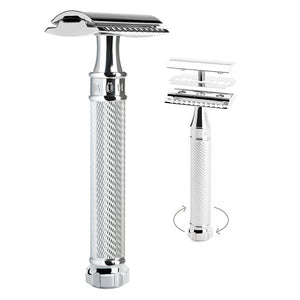 title="MUHLE R89 TWIST CLOSED COMB - Ozbarber">
The Muhle R89 Twist is an updated version of the R89 which was originally launched in 2010.
The TWIST cap can be released by twisting the end knob at the bottom of the handle. This makes changing blades simple, quick and safe. The TWIST also benefits from a longer and thicker handle compared to the R89.
With its engraved handle, the Muhle R89 TWIST has been expertly designed for control and comfort. The closed comb head is ideal for beginners as the blade is not too exposed however it provides an extremely close shave.
Handle Length: 9.5 cm
Total Razor Length: 10cm
Weight: 80g
Manufactured by Muhle, who create beautiful products for wet shavers worldwide.
Free Australia wide delivery on order over $30
On the fence about this Muhle 89 Twist Closed Comb Safety Razor? Don't be. Let our satisfaction guarantee address your concerns.

Inventory Last Updated: Dec 06, 2023