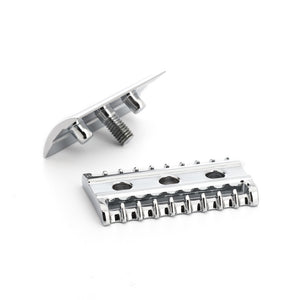 title="Muhle R41 Replacement Safety Razor Head - Open Comb">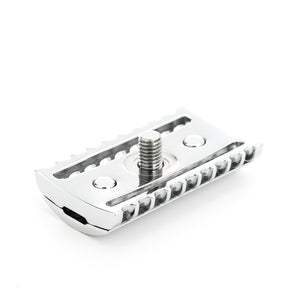 title="Muhle R41 Replacement Safety Razor Head - Open Comb">
Convert your Mühle or Edwin Jagger safety razor with this replacement shaving head.
Now you can get the legendary Mühle R41 Razor head by itself. The newly redesigned 2013 version of this head while very aggressive, is smoother that the earlier version. Enjoy the closest shave of your life with the immaculately chrome plated Mühle R41 head.

This Mühle R41 complete razor replacement head consisting of tooth comb (open comb) bottom plate and top plate.
Compatible with all Mühle & Edwin Jagger DE Razors (here are some popular models Mühle R89, Edwin Jagger DE89L, DE89 Barley, DE86)

Made in Germany

PLEASE NOTE: That this is for the head only and a handle will not be supplied.
Free Australia wide delivery on order over $30
The Muhle R41 Replacement Safety Razor Head - Open Comb is evocative, to say the least, but that's why you're drawn to it in the first place.

Inventory Last Updated: Dec 09, 2023