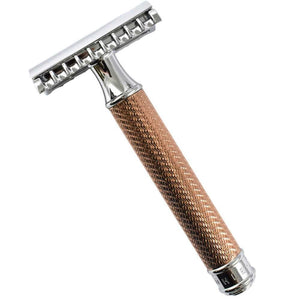 title="MUHLE R41 OPEN COMB SAFETY RAZOR ROSE GOLD - Ozbarber">
Having a bit of style and flare is important to you. Honestly, it's important to most people, although some might not want to admit it. Showing off some of that 'pizzazz' in the little things can be nice, and one of the ways to do that is with this razor. Wait' you're probably wondering what a shaver could possibly have to do with style. Well, look at the photo of the rosegold open comb Muhle R41 Double Edge Safety Razor here. That should answer your questions, since this thing is all about style. It has beautiful rosegold on the handle and some stellar chrome accents.
If rosegold isn't your 'thing' or if you have a decorative design in your bathroom that screams for something else, you can't go wrong with the other Muhle R41 Double Edge Safety Razor Open Comb. Check it out. You'll find something that is able to blend form and function just as you need.
Of course, we know it's not all about how something looks. It's more important that it works, and you can be sure that this is a real workhorse. It offers you a traditional close shave and as long as you take good care of it, it will last.
Length: 3.7 inches
Weight: 67 grams
Made in Germany.
The Muhle R41 Open Comb Safety Razor Rose Gold is the yin, to your yang. You've found what you're looking for.

Inventory Last Updated: Sep 25, 2023