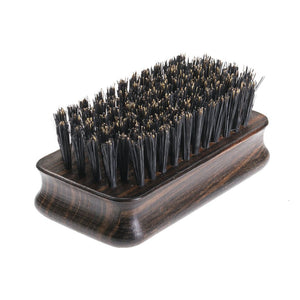 title="MILKMAN MILITARY BEARD BRUSH – MEDIUM STIFFNESS - Ozbarber">
It doesn't get much manlier, this gorgeous dark beast combines medium stiffness boar bristle with an eye catching wooden body. Although it's compact & great for travel, the handle is still sits snug in the fist to provide nice control as you tame your beard & head hair.
Suited for short to medium beards. The bristles on this brush are a little softer than their hard bristle beard brush so if you've got a fine beard it will be gentler. With its rubberwood construction this brush makes use of otherwise underutilized plantation timber that helps to keep carbon out of the air & into a product you can use.
Free Australia wide delivery on order over $30
The Milkman Military Beard Brush Medium Stiffness is a sensational customer favorite, and we hope you like it just as much.

Inventory Last Updated: Dec 06, 2023