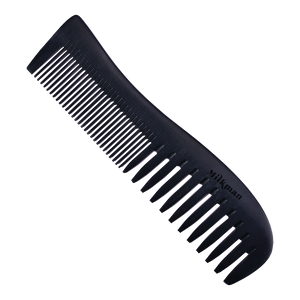 title="Milkman Beard Beast Beard Comb">
This is a beast of a comb from Milkman Grooming that any bearded man would be proud to own. It is made from a matte black Bakelite plastic.
This beard comb has thick teeth on one side to de-tangle the tangliest of beards, and fine teeth on the other side for styling your beard, hair and moustache to perfection.
Great for daily use, easy to travel with and a perfect gift for the bearded man.
DIMENSIONS: 195mm (L) x 50mm (W)
WEIGHT: 43.3g
The Milkman Beard Beast Beard Comb is far and away, one of our most popular items. People can't seem to get enough of it.

Inventory Last Updated: Dec 06, 2023