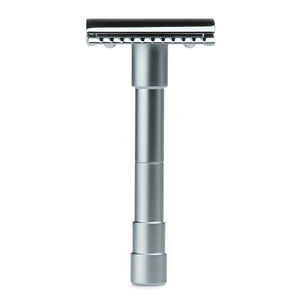 title="MERKUR SOLINGEN TRAVEL RAZOR WITH LEATHER POUCH (46C) - Ozbarber">
title="MERKUR SOLINGEN TRAVEL RAZOR WITH LEATHER POUCH (46C) - Ozbarber">
title="MERKUR SOLINGEN TRAVEL RAZOR WITH LEATHER POUCH (46C) - Ozbarber">
title="MERKUR SOLINGEN TRAVEL RAZOR WITH LEATHER POUCH (46C) - Ozbarber">
Merkur 46C Double Edge (DE) Travel Safety Razor
Product
The Merkur 46C Double Edge (DE) Safety Razor is a beautifully crafted and ingenious 4 piece travel razor. The quality which is synonymous with Merkur is evident in every detail... The shorter length handle is matt chrome with precision milling along the whole section which allows for a superior grip even when hands are wet. The matching base allows for easy blade swapping and also adds the finishing touch to an eye catching razor.
The razor sits comfortably in the hand. and the weight is evenly distributed along the length of the handle, achieving a well balanced easy to use razor. The handle is topped with a plated head which is finished in Polished Chrome. The razor splits down into four pieces, with the handle unscrewing to two halves. The razor then packs neatly into a small leather travel case which tucks into your washbag, taking up minimal space. An elegant looking razor and a popular favourite.
Made in Germany (Solingen).
Product is also supplied with a FREE Pack of Merkur Double Edge Razor blades.
How to Use
The Razor head is released by unscewing the handle and lifting the cover clear to insert the blade. Slot the head cover back in place, screw and tighten the handle and you're ready to go - Simple!
Recommended for
All skin types.
Grooming Tip
Replace razor blades frequently and before feeling any 'razor drag' for a close, smooth shave that is free of irritation.
Dimensions
| | | |
| --- | --- | --- |
| A. | Overall Length | 85mm |
| B. | Handle Length | 75mm |
| C. | Head Width | 41mm |
Weight: 48g.
Free Australia wide delivery on order over $30
The Merkur 46C Travel Safety Razor with Black Leather Pouch is far and away, one of our most popular items. People can't seem to get enough of it.

Inventory Last Updated: Dec 06, 2023