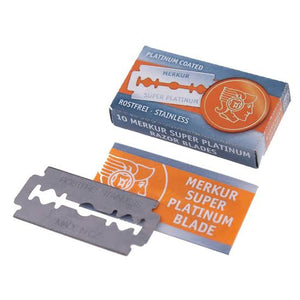 title="Merkur Super Platinum Double Edge Blades (10)">
Merkur Super Platinum Double Edge Blades are some of the most popular today. They offer a very close shave but are less aggressive than others with a similar sharpness.
9/10 sharpness

Comfortable with good amount of glide

Excellent longevity

Rust resistant

Platinum coated

1x 10 blade pack

Made in Germany
The blades use a rust resistant, high-carbon, stainless steel and feature a platinum coating for enhanced comfort. Most guys will get between 3-7 uses out of each blade.
To avoid excessive wear on the blade leading to dulling, make sure to rinse the blade after each use - never wipe it.
Also available in economical bulk lots of 50 blades and 100 blades.
Free Australia wide delivery on order over $30
The Merkur Super Platinum Double Edge Blades (10) is far and away, one of our most popular items. People can't seem to get enough of it.

Inventory Last Updated: Dec 06, 2023