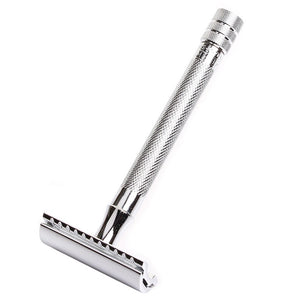 title="MERKUR SOLINGEN LONG HANDLE CLASSIC SAFETY RAZOR 23C - Ozbarber">
The Merkur Long Handled Safety Razor features a chrome finish and double edge design to provide a very close shave. Its comfortable extra long handle is designed for a non-slip grip and works well with all hands especially larger hands.
Benefits:
Closed comb protects you against cuts and nicks

Knurling on the handle offers a firm grip

Chrome plating has a polished surface that shines like a mirror and reflects light

Chrome plated exterior doesn't rust
Features:
3-Piece Construction

Closed Comb

Knurled Handle

Long handle – Great for people with large hands

Chrome Finish

1 Free Double Edge Blade Included
Made in Solingen, Germany.
For over one hundred years, DOVO has been crafting exceptional tools. Their expert craftsmen meticulously finish each piece so you have a blade that will last a lifetime.
Free Australia wide delivery on order over $30
The Merkur Long Handled Classic Safety Razor 23C destined to impress, and priced at only
$59.00
, for a limited time.
Inventory Last Updated: Sep 25, 2023