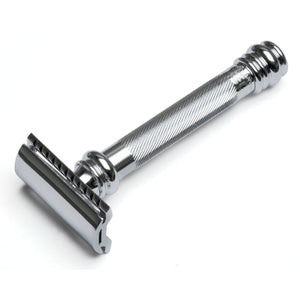 title="MERKUR SOLINGEN BARBER POLE CHROME 38C - Ozbarber">
The Merkur Safety Razor 38C features a chrome finish and double edge design to provide a very close shave. Its handle is shaped like a barber pole. Chrome Plated with Bar. The safety razor has a straight edge especially great for an extra close shave.
Benefits:
Closed comb protects you against cuts and nicks

Chrome plated has a polished surface that shines like a mirror and reflects light

Chrome plated exterior doesn't rust
Features:
2-Piece Construction

Closed Comb

Long Handle – Great for people with large hands

Chrome Plated

1 Free Double Edge Blade Included
DETAILS
Head Material: Chrome
Model: 38C
Head Type: Closed Comb Straight Bar
Length: Handle 95mm / total 104mm
Diameter: 15mm
Handle Material: Chrome plated brass
Made in: Germany 
Made in Solingen, Germany.
For over one hundred years, DOVO has been crafting exceptional tools. Their expert craftsmen meticulously finish each piece so you have a blade that will last a lifetime.
Free Australia wide delivery on order over $30
The Merkur Barber Pole Safety Razor Chrome 38C was built with people like you in mind. Something to keep you happy. Every. Single. Day.

Inventory Last Updated: Dec 06, 2023