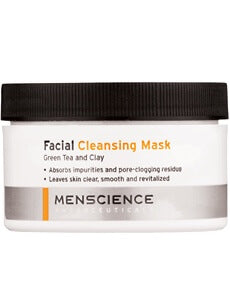 title="MENSCIENCE FACIAL CLEANING MASK - Ozbarber">
Facial Cleansing Mask
This mix of pulverized green tea and refined clay is unlike anything you have put on your face before. Actually feel it working as it absorbs the impurities and clears residues and excess oil, leaving your skin super clean, revitalized and smooth. Ideal for all skin types. Use once or twice a week to maintain your complexion clean and clear year-round. 3 oz.
WHY IT'S SO GREAT:
The Facial Cleansing Mask is the perfect combination of clay, green matcha tea, aloe and hyaluronic acid. The clay absorbs pore clogging oily residue, while the green tea purifies the skin. The hyaluronic acid and aloe condition the skin to leave it smoother and softer.
COMPLETE THE REGIMEN
Apply a generous amount of the clay mask to the face and neck, allow to dry and rinse. After rinsing off the Facial Cleansing Mask, apply a small amount of Eye Rescue Formula on the area above and below the eyelids to diminish the appearance of fine lines and revitalize a tired appearance. Follow with the Anti-Aging Formula to create a firming effect. Finish with the Advanced Face Lotion to moisturize, smooth and improve the complexion.
Free Australia wide delivery on order over $30
The Menscience Facial Cleansing Mask is the yin, to your yang. You've found what you're looking for.

Inventory Last Updated: Sep 25, 2023