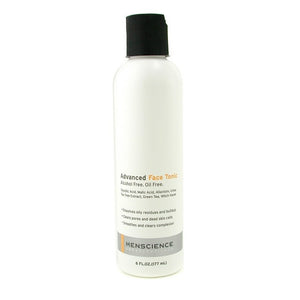 title="MENSCIENCE ADVANCED FACE TONIC - Ozbarber">
This powerful but gentle solution clears your face of oily residues and buildup which can give you a dull appearance and clog your pores. Regular use will provide a clean, bright and smooth complexion. Contains alpha hydroxy acids, tea tree extract, allantoin and witch hazel. 6 oz.
WHY IT'S SO GREAT: and Malic Acids that clean the skin and promote a smoother and clearer complexion.
COMPLETE THE REGIMEN
Wash with the Daily Face Wash which cleans and rinses away without leaving residue and stripping the skin of its natural moisture.
Follow with the Advanced Face Tonic that clears the face of buildup and excess oil, which can clog pores and cause a dull appearance.
Moisturize with the ultralight, oil-free Advanced Face Lotion that absorbs immediately, goes on matte and doesn't leave any greasy or shinny residue.
Use the Facial Cleansing Mask twice a week it the place of washing to absorb impurities and pore clogging oily residue.
How often should I use the Advanced Face Tonic?
Apply Advanced Face Tonic once or twice daily, depending on how oily your skin is.

Is the Advanced Face Tonic appropriate for all skin types?
It is recommended for all men's skin types: from oily to sensitive to acne-prone skin because it does not contain alcohol, oil, fragrance or other irritants.

Why is using a face toner recommended for good skin care?
After cleansing skin, using a toner can help further remove debris and oil, while rebalancing skin's moisture levels and softening it at the same time. Think of it as an extra hand to get rid of any residues or grime possibly left behind by daily washing.

Why are Glycolic and Malic Acids such effective ingredients for acne treatment?
Glycolic and Malic Acids help rebalance skin's moisture levels, refining and smoothing skin's texture.

What do you recommend for oily or acne-prone skin?
Keep skin clean by washing with Daily Face Wash twice a day, once in the morning and once at night. Follow by applying Advanced Face Tonic using cotton ball or tissue to remove all traces of oil and debris. Allow to evaporate and apply Advanced Face Lotion if necessary.

Why doesn't Advanced Face Tonic contain alcohol?
Alcohol has a tendency to dehydrate skin provoking problems such as ingrown hairs and dry skin. Advance Face Tonic uses gentle, nourishing ingredients to keep the skin clear of dirt and to maintain moisture levels balanced.

Free Australia wide delivery on order over $30
The Menscience Advanced Face Tonic is far and away, one of our most popular items. People can't seem to get enough of it.

Inventory Last Updated: Sep 25, 2023