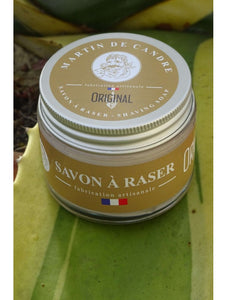 title="Martin De Candre Original Shaving Soap 200g - Ozbarber">
 L'Original handmade, artisan shaving soap by Martin de Candre is superbly scented with Rosemary, Lavender and Mint, it's a refreshing, clean scent and the perfect morning wake up call. Made in small batches in rural France since 1974 Martin de Candre shaving soaps are known worldwide for the exceptionally rich and protective lathers they deliver and their unique, pleasing scents.
 The scent and the lather are stronger and richer than other brands and the lather seems to stay in the brush a lot better than other soaps, you will also notice that the soap retains heat leading to a better shave.
 Expect around 12 months daily use from this shaving soap, it has been air-dried for many weeks so when it arrives with you it is very hard and moisture free.
Free Australia wide delivery on order over $30
The Martin De Candre Original Shaving Soap 200g was built with people like you in mind. Something to keep you happy. Every. Single. Day.

Inventory Last Updated: Dec 08, 2023