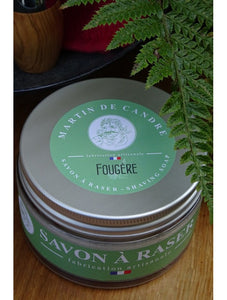 title="Martin de Candre Fougère Shaving Soap 200g - Ozbarber">
Martin de Candre LIMITED EDITION Fougère Shaving Soap
Le Savon à raser en Edition Limitée Fougère - Limited Edition Fougere Shaving Soap by Martin de Candre of France. This premium, luxury, handmade soap has added cologne made from twelve essential oils. As soon as you swirl your shaving brush on the surface of this soap you know this is no ordinary shaving soap. The scent and the lather are stronger and richer than other brands and the lather seems to stay in the brush a lot longer than other soaps, you will also notice that the soap retains heat leading to a better shave.
The shaving lather is rich, creamy, protective and lubricating.
Expensive? Yes, unashamedly so, however, this soap should last the average wet shaver around 12 months daily shaving.
This is a Limited Edition Shaving Soap, Martin de Candre will stop making this soap during 2019.
The soap is made by a small team in Fontevraud l'Abbaye, rural France.
Martin de Candre Say:
In the past, many perfumes bore the name 'Fern' which, in the world of perfume, means a fresh cologne with a green and woody fragrance. Martin de Candre's Fern consists of a blend of 12 Essential Oils, that has made the reputation of our soap since its creation in 1974. A fragrance for everyone, a rare, delicate, cologne, exuding fresh scents and evoking sweet nostalgia ...
Free Australia wide delivery on order over $30
The Martin de Candre Fougère Shaving Soap 200g is far and away, one of our most popular items. People can't seem to get enough of it.

Inventory Last Updated: Dec 09, 2023