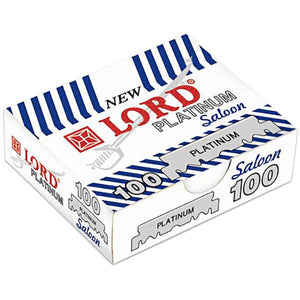 title="Lord Saloon Platinum 100 Half Blades">
Edge Half Blades double edge razor blades are stainless blades that fit all double edge razors. Sharp and smooth, these are high quality blades.

100 blades for use in Barber Razors and Shavettes that accept 1/2 a Double Edge Blade!Lord Salon Platinum Stainless Steel Half Blades, 100/Packet. No need to break in half. Attachable to razors for very precise cutting. Ultra-sharp, disposable blades for razor detailing.

Made in Egypt by Lord Shave
Free Australia wide delivery on order over $30

Imagine if you could be satisfied and content with your purchase. That can very much be your reality with the Lord Saloon Platinum 100 Half Blades.

Inventory Last Updated: Sep 25, 2023