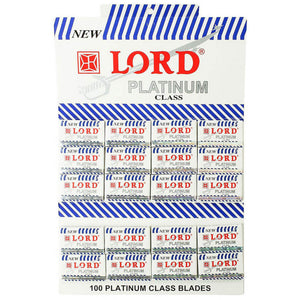 title="Lord Platinum Double Edge Razor Blades (100)">
Lord Platinum double edge razor blades have provided enjoyable shaves for many traditional wet shavers worldwide. They are sharp and feature a platinum coating for enhanced comfort. 
Compatible with all modern double edge safety razors, Lord Platinum razor blades deliver a quality shave.
Featuring Platinum coating to smoothen the cutting edge of the blade for greater comfort. Will fit all standard double edge safety razors. 
Made in Egypt by Lord Shave. Traditional manufacturer of shaving blades.
20 packs of 5 blades each (100 blades total).
To customise your shaving experience, try different double edge razor blades from our blade sampler to find the blade that will better suit your skin, beard and shaving style.
Free Australia wide delivery on order over $30
The Lord Platinum Double Edge Razor Blades (100) is the yin, to your yang. You've found what you're looking for.

Inventory Last Updated: Dec 06, 2023